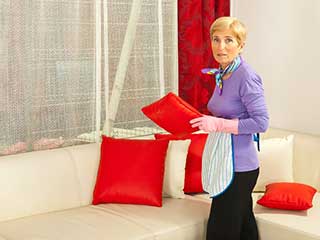 When it comes to carpet cleaning and maintenance of furniture items, Residential Carpet Cleaning Santa Clarita is the best choice. We provide all kinds of services and you can count on our timely assistance and accurate work. Our employees are experienced and disciplined and you will be very pleased with the high quality of their work. You can order the cleaning of as many items as you want and our team will come even the same day if they are available.
Interesting Facts About Santa Clarita
Santa Clarita is located in Los Angeles County, in the state of California. It is one of the biggest cities in the area and was established in 1987 when several unincorporated communities were merged into one. It is stated to be one of the safest cities in the county. Many notable actors and actresses have lived here and there are various movies which were entirely or partially shot in Santa Clarita.
People living in flats and small houses do not need so much time to clean all carpets and upholstery but the large houses' residents experience difficulties when it comes to this activity. If you have a luxurious set of furniture at home or a real oriental rug which should be cleaned by professionals only, you should call us - Carpet Cleaning Santa Clarita. We can provide any cleaning service you could think of and you will be very pleased with the high quality and durability of the results.
Here are Some of the Things, Which you can Order from our Company:
Rug cleaning and refreshment – our team will check carefully the item in questions and they will choose the best equipment and the detergents which will preserve the composition of the fabric and all colors intact.
Residential water damage restoration- if you experience the nasty water spill at home from a broken pipe or a leaking washing machine, we are available to provide immediate help. All carpets and other upholstery items will be dried and sanitized and if there is any unpleasant smell, we will make sure to refresh all items and deodorize the surfaces.
Tile cleaning – if you have chosen to put tiles in the kitchen or the corridors, they will be endangered by the accumulation of the most dirt and dust, as any member of the family walks through these areas on a daily basis. We will provide excellent devices which will clean the tiles in two steps and ensure that all dirt is thoroughly removed from their surface.
Upholstery cleaning – we all know that furniture can be a substantial part of one's house atmosphere. Thanks to the efficient hot water and steam cleaners we will be able to remove all hair and other dirt particles from the fabric's surface. No angle, crevice or hole will be left unclean as we have all types of additional particles.
Stain removal – you can count on us to clean the most stubborn stains which you consider impossible to remove.
Carpet Cleaning Santa Clarita is the ideal home cleaning company. We provide all kinds of services and you can rely on us at any time during the week. Call today for more information!
Our team can also take care of:
Rug & Upholstery Cleaning
Commercial Carpet Cleaning
Water Damage Restoration Service
Pressure Washing & Auto Scrubbing